I went out on Sunday to enjoy a walk along part of the South East London Green Chain with a few other bits thrown in.
Starting at Shooters Hill I walked through various parks in the heartlands of the former Royal Arsenal Coöperative Society, beginning at the former Coöperative pig farm at Woodlands farm. I walked through Oxleas and Shepherdleas woods, through Eltham Park North and South and to Eltham Palace, former home of the Courtauld family who restored the great hall into an Elstree version of a Tudor great hall.
After Eltham Palace there were some spectacular views over towards London, in particular Canary Wharf and the Millennium Dome. I took some pictures as the towers looked like the Emerald City in the Wizard of Oz but perhaps they will not be as spectacular as that on the photo!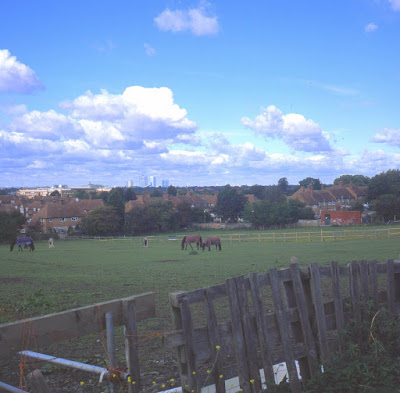 After a brief excursion into the tarn at Mottingham (a stretch of water that may date from the 15th Century) I walked through a small park by the railway called Fairy Hill. The Royal Blackheath Golf Club House is mentioned in my Country Houses of Kent Book as a fine example of a 17th Century mansion but alas it is 'members only' so I could not see it. Eventually I called in at the Coöp supermarket at New Eltham which is an old RACS branch with the date of founding the Society (1868) and the date of the branch (1931) set out in green and white tiles in the fascia. If there ever was an opening plaque I couldn't see it but there is a sense of history where people have been trading coöperatively for over 70 years!
Back across Avery Hill Park and into a country lane near the (architectural) award winning Crown Woods School and into Riefield Road.
I must have walked down Riefield Road from Falconwood Station when as a student I came for an interview at Avery Hill College (now part of Greenwich University). I remember being impressed by the numbers of coöps in that area of South London, which must have been right at the end of the RACS, and by the front view of Crown Woods School. Earlier this year I also walked from Falconwood Station to attend a cremation. Happy days and sad days seem to attend this area.
I intended to end my journey at Falconwood Station and catch a train home but there was engineering work on the line so caught a bus into Eltham then a further one to Plumstead then another to Lewisham via Bostall woods where the RACS had their Education Centre and hotel, Shornells, and a camping site. This is now the Greenwich and Bexley Cottage Hospice.
While still having RACS thoughts and being a lot later home than I intended, I decided to go and visit the Alldays shop at Northumberland Heath on the outskirts of Erith. This is a former RACS shop that has the typical architecture of 1925, the white faience and the coöp hall above. I took a few photos on film and walked back to Erith Station. The shop hasn't changed much in 80 years.